There is a strong dichotomy in the Fashion Industry between the Runway/RTW/Couture world and the mainstream consumer world that most of us live in. Take the price point to start with: A garment can assume all sorts of fantastic and wonderful heights with an unlimited budget with draping, beading, design and fabrication being taken to an artistic level. Again though most of us don't shop at the price point of 1k+, instead we live between the 20-300 range with the 300 being something that inspires you that you intend to be investing in (or something like a bridesmaid's dress, but more on that later.) Take that word, investing. You don't hear Olivia Palermo talking about investing in a new fur for fall. Instead you hear common people like myself discussing 'investing' in a pair of Balenciaga booties because (we tell ourselves) they will last forever so I can then disperse their cost over the times I will wear them and then they will be practically free… or will they? We couch these purchases in such language because they are a reach they are outside of our pocket book's comfort zone.
But I want that look!
I want that cashmere Burberry blanket so casually draped over models' shoulders on the Fall '14 runway. I want to be one of Alexander Wang's heat-adapting warriors taking on each day in my designer armor. So what to do. In my opinion the industry forces has created fast-fashion, has forced the adaptation of stores to be able to imitate trend and design quickly and an affordable price.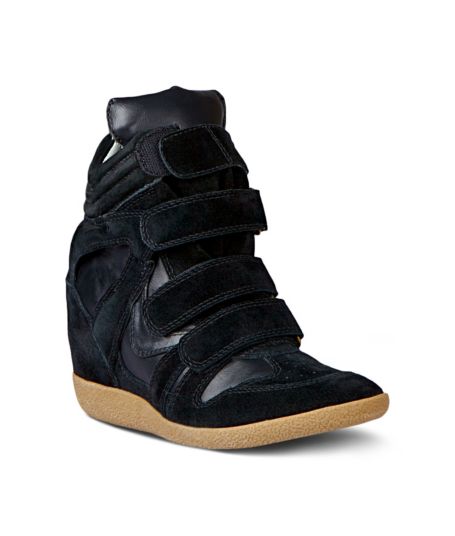 One cannot ignore the force of the internet as well, whereas in the past the raw fashion was reserved for the few and the privileged via the internet it has been democratized. I now know which Celine knife pleat skirt I MUST HAVE for Spring and now I can search every retailer high and low until I find something to satisfy that need. How retailers fill that gap has become contentious as imitations and blatant knock-offs become popular. You can almost guarantee that Steve Madden will knock of one of your favorite shoes from one of your favorite designers (cough cough Isabel Marant Wedge Sneakers (left) vs. the Steve Madden Hilight (right),) but I can't condemn them, I bought the knock-offs and was thrilled to be able to feel just as special as one of the few, only more resourceful. I have many a hesitation regarding this type of imitation and it is important to THIS BLOG because I aim every day to imitate those pieces, those looks, that trend and yet I am perpetuating perhaps one of the greatest issues in fashion of design theft and competition. But doesn't that appear in every industry? Isn't inspiration the same thing as imitation? Where is the line?
I will leave you with this: I love the fashion industry. Not only does it provide an outward canvas for physical expression, but it also provides me with my occupation (a non-customer facing job in a corporate office if you must know. Some of us with style are good with numbers too.) Fashion is integral to who I am as a person and without the designers who spark the trends that get us to develop a gap in our closet that never existed before my industry wouldn't exist. I hope you will follow or check back every now and again as I continue my journey exploring the many layers of this industry, where I take my inspiration from and how I shape a professional wardrobe out of fashion forward pieces. You can expect a great deal of tips, shopping tricks and sites/deals that I love to be shared because after all I am on a budget. Remember, I'm a blogger, not a billionaire. -Rebecca
Follow my blog with Bloglovin